16 Jul

5 tips to spend the perfect weekend in London

5 tips to spend the perfect weekend in London:

Are you considering a vacation in Europe? Why should you think of London?
London is the perfect place to mix culture, entertainment and fun. Here are a few tips to help you to make the best out of your trip in the British capital. Are you ready?
London is one of the most expensive cities in Europe, but you absolutely have to spend few days there. Often compared to New York because of its diversity and its open-mildness', you can take the train (from Erurope) or plane to reach London. It does not matter how you travel to London because what you save on air fares (in comparison to Eurostar fares), you will spend on metro+airport transfer to London city centre.
Step :1 Accommodation
As a young and dynamic city, London offers you plenty of hostels everywhere. The price depends on the number of people in your room, but you can easily find a room for less than £25 a night. Just be careful with your belongings, it's not 100% safe.
Step 2: Explore the City
The first thing to anticipate is the transport in London. It's very expensive, so you have to think it over. If you want to unlimited travel, you can buy a ticket for all the day. It costs around £7 for zone1-2. You can also take the bus which is cheaper. My advice is to buy an Oyster card (£5 of deposit), which will permit you to pay less for every travel than a single travel ticket.
Step 3: Choose your spot
So what do you have to visit? I can suggest a range of different places according to the area.
Insider Tip 1:

In the north, you should walk and spend time in Camden market, one of the most famous markets in the world. The north is also a place where you can relax in Regent's park or be curious thanks to the London Zoo. To go out, you have the awesome KOKO, a club with a theater decor. Otherwise, you have a lot of pubs ready to offer you a fresh beer!
Insider Tip 2:

In the South, a walk along the Thames River can be very pleasant if the sun is shining. You have also, some great parks, like Kew Gardens. For fan of history, you will be pleased with the Imperial War Museum. To go out, I recommend you one of the boat along the river for a nice boat party!
Insider Tip 3:

In the east, a place to see is of course the London Bridge. If you have enough money, you should go to visit the Tower of London. The entrance is around 20£, but you will definitely be amazed by all this history. If you like shopping, you have the biggest wall in Europe in Stratford. A perfect place to spend a day for fan of fashion. I really advice you to visit Brick Lane market, a nice market which becomes very trendy in the evening with a lot of bars.
Insider Tip 4:

In the west, you can't miss Notting Hill area! As poetic as in the movie, you will come across Portobello market, where you can find a lot of antiquities. To have a break, you should make a stop in Hyde Park, if the weather is pleasant of course. Also I advise you to visit the V&A museum, a huge very interesting museum with amazing items.
Insider Tip 5: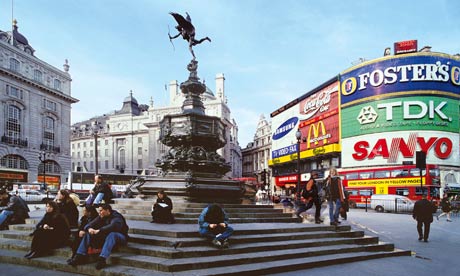 So, lastly the center, the most touristic place. For lovers of museum, hit up the National Gallery or the British Museum. If you enjoy walking, you can go to popular spots like Piccadilly Circus and Oxford Street. City center is where you can find a lot of (expensive) classy clubs, as Le Cirque du Soir, the Movida or the Jealous.
Make your trip to London memorable – remember to visit the local markets and to take a bit of London back home with you.